News
February 2014

December 2013

November 2013

September 2013

August 2013

July 2013

June 2013

November 2012

February 2011

October 2009

September 2009

August 2009

June 2009

May 2009

April 2009

March 2009

January 2009

October 2008

July 2008

June 2008

May 2008

April 2008
Goblin Market
Sep 27, 2009
If you are in Montreal, join us for the world premiere of "Goblin Market" at Pop Montreal next Saturday Oct. 3rd at 7pm at La Place Ubisoft: L'Espace Reunion, 6600 Hutchison.
The Montreal Gazette calls it an "exquisite… 12-minute Victorian hothouse gothic adaptation of the Christina Rossetti poem, featuring enchanted forests, forbidden fruit, scary goblins and fair maidens, represented in part, by famed actor Liane Balaban. It's all quite perfect, and gorgeously shot by the Sanchez brothers."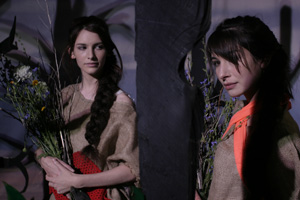 An 8mm fairy tale about the temptations of fruits, the film takes place in a forbidden forest and was made with an all-star cast and crew of Montreal beatniks. The film's magical score is by Roger Tellier Craig. It was shot by the Sanchez Brothers, who are in Alberta right now filming a Western feature film with our male lead, Dave Lawrence. Beautiful damsels Liane Balaban, Tamar Amir, and Tracy Martin light up the screen. Miska Gollner and Jonathan Shatzky are unforgettable as the Goblins. It was produced by Sarah Resnick, who also unearthed a bounty of costumes alongside Alexandra Houston Smith. Raf Katigbak did the art direction, Pascal Bartschat was the production designer, Dan Lafleche styled the hair, Natalie Riviere created the makeup, her bro Daniel "Donny Doo Dai Day" Riviere edited it with Jason Sanchez, D.A.D.D.Y did the titles, and Brett Stabler, Esq funded it by hiring yours truly as a DJ at the W Hotel for a year. There's even an illustrated cameo by Oscar-nominated animator James Braithwaite! If you live here, you probably know at least one person who worked on it – whether it's Sefi Amir (Art Dept), Warren Auld (Engineer), Nora Harun (Aesthetics), Alexandre St-Onge (Wolf Howls), Miriam Streiman (Victuals), Steve Zylbergold (Glowing Fruits), or Darren Curtis (Kidnapper). The first screening will be at Pop Montreal next Saturday, Oct. 3rd at 7pm at La Place Ubisoft: L'Espace Reunion, 6600 Hutchison.
There'll be another screening in late October, and after that, we'll put it up on youtube.